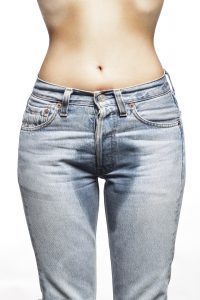 So apart from strengthening your pelvic floor muscles which is the commonly accepted exercise given to women with a weak bladder:  I'm guessing you might also want to learn about the structures above the pelvic floor that produce huge downward pressure onto the Pelvic floor exacerbating the problem that are never talked about.
In my clinic I treat these muscles a lot for Back and Pelvic pain.
So having that downward pressure acting over the Bladder is going to contribute to your Leakage
In treating these muscles in my clinic for Back pain many of my clients tell me that it has greatly helped with their incontinence and I was not even aware that they had incontinence.
They tell me that they have Stopped going to the Gym or running  even stopped going out with friends for a walk because of the Fear of this leakage happening to them.
They tell me they have to wear pads and take an extra pair of underwear with them when they just go out for the day.
So if your experiencing this problem or you know someone who does just pass this onto them so they can get the best information on the other contributing cause that is never addressed.
And lets face it many women feel stigmatized  even talking about this problem so may hide it or have to wear pads wherever they go  or even just lifting their own children or avoid certain  (what would be considered normal activities) like lifting the groceries into the car.
So my offer to you today is to let me show you about the other structures that contributes to this problem that has helped many of my clients
I'm offering you to come In for a chat with me Or phone my clinic and book a phone call with me so I can help  you understand exactly what is contributing to your problem and I will show you how I have helped others with this problem: this will be Free no charge:
If after that you feel that what you have learnt could help you and you would like to have a treatment then that treatment will be charge at only 50% of our normal fee.
The value of this offer to learn about one of the biggest contributors to the problem and for me to show you How I can help you is Invaluable for you.
The value alone just from the first visit will give you information that very few women even know about.
Why am I doing this? Because this is my Passion to be able to help you get the best information and  treatment for this condition
So If you feel that this consult would be valuable and you want to take this up then call my clinic or go to my website www.posturepro.com and you can book online.
So I hope this helps you and I will speak to you soon.     Julie