ABOUT US
POSTUREPRO PHYSIOTHERAPY
Posturepro Physiotherapy offer a range of services, including general physiotherapy, acupuncture and our exclusive SOAZ method.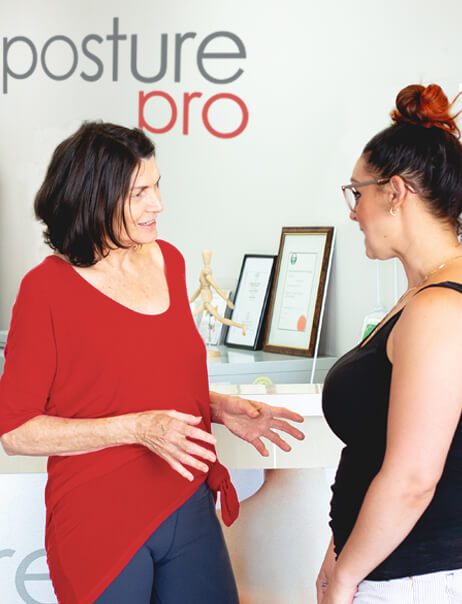 PRINCIPAL PHYSIOTHERAPIST JULIE WILLIAMS
Developer of the SOAZ Method
I was a Teacher in health studies before I went back to study Physiotherapy in Adelaide. I am the founder and developer of the Soaz Method and my Posturepro clinic is where I treat and have developed the Soaz method.
My passion about preventative health and helping my clients to get the best out of their bodies and live pain free grew during my teaching years. After graduating from physiotherapy I was working in a clinic treating men from the Holden car plant at Elizabeth in Adelaide's north.

These men came in with chronic low back pain. We would treat them and then they would return not long after with the same back problem. I began to think I was a bad physio. Yet when I spoke to my senior physio's about this they did not see this as a probem: they said oh that's just the way it works.

This did not sit well with me. And it was at that point that I started to do other courses and look at what other research might be out there so I could help these men get a better outcome for their back pain.

It was in 2005 that I discovered the research that I did not even know existed. It was this research that started me on a journey that I am still on today.

It was this research that has lead me to change everything that I was taught and that I was trained to do. It was this research that has given my clients ongoing relief for their back pain.

At Posturepro we treat a variety of conditions which include:
Back Pain

Headaches
Neck Pain
Sciatica
Shoulder Pain
Foot and Knee Pain
Plantar Fasciitis
Whiplash
POSTUREPRO GO BEYOND THE COMMONLY ACCEPTED APPROACHES IN PHYSIO
As a physiotherapist of twenty years, Julie Williams has used traditional approaches in the past with good results. But, compared with the postural approach she uses at Posturepro, the biggest difference she sees is the long term results and the understanding about why people have the pain. Good alignment of your spine is central to having a pain free back – without it you are forever returning to your physio with the same symptoms. Education is an essential part of your care at Posturepro Physiotherapy Adelaide and Julie is committed to giving you long-term solutions so you can continue to enjoy doing all the things you love.
WE TAKE YOUR BACK PAIN SERIOUSLY
You are unique. Not only in your body type, but in your requirements for the right mattresses, pillows, and desk set up. As an holistic approach to your pain, you need to look at everything that impacts your posture. Most people with pain episodes think their pain came about by the last thing they did before the pain started, like lifting the shopping into the car, carrying one of the kids, or running. These are only episodes in a series of events from your day-to-day life that can bring on your pain.
At Posturepro Physiotherapy Adelaide, we understand bodies and will assess each one individually. Principal Physiotherapist Julie Williams is passionate about an holistic approach to your treatment, as well as making sure you are well equipped with knowledge of how your pain started and how it can be treated. She will work with you to find the best solution for your pain.
MORE THAN JUST PHYSIO: POSTUREPRO PHYSIOTHERAPY HAS ALLIANCES WITH THE BEST IN POSTURE CARE
At Posturepro Physiotherapy Adelaide, we can advise on things like mattresses, pillows, chairs, and even a better bra. We do this because we know that, to get you and your body right and keep you that way, it means looking at more than just your pain symptoms.
THE ORTHOTIC GROUP: CARING FOR YOUR FEET AS THE FOUNDATION OF YOUR BODY
Your feet form the foundation of your spine. You wouldn't start to put up the walls of your house before you got a good, solid foundation, which is why Posturepro Physiotherapy Adelaide offers state of the art prescription orthotics. Rather than off the shelf, one size fits all orthotics, the Gait Scan Orthotic is a custom orthotic made from a strong, yet pliable material that is comfortable and supportive. We scan your feet to get your unique footprint that is exclusive to you alone. The benefits are: comfort and durability. Posturepro Physio cares about the whole self from head to toe, so get in touch today.
FREQUENTLY ASKED QUESTIONS
Forces create Distortions in our Spines. Huge Forces create Scoliosis for instance, where the spine bends sideways and twists.These Forces are created through our Muscles. You see evidence of this every day in everything you are required to do. Getting up out of your bed. The muscles in your legs help you to stand and walk, picking up your shopping, the muscles in your arms create the force needed to do this. A woman in labour Huge contracting Forces of the muscles deliver the baby from the Mother's womb. And when the baby is born another group of muscles help the baby cry and breathe.
Even using our bowels it is necessary to have these forces in place.Incontinence is the result of these forces not working as they should. So, given all of these forces called Muscles acting on our joints and ligaments, tendons and nerves that come in the pathway of these forces everyday, it is only logical that these same forces created distortions in your back and discs that then create pain. Soaztherapy addresses These Very Forces Direct.