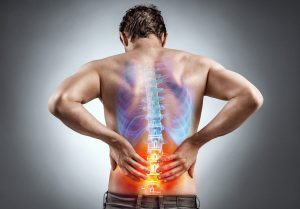 BACK PAIN, What is it & Why do we get it?
And why is it that 80-90% of the planet suffers from low Back PAIN?
There is a whole industry that has developed based around back pain –
Specialists like Orthopedic Surgeons or Neurologists
Imaging like MRI's, cat scans or x-rays
Then there are therapies such as
Physiotherapists, Chiropractors, Remedial Therapists or Massage Therapists
And the alternative medicines and therapies like
Reikki, Bowen and the Natural therapies claiming to ease pain.
There are also the myriad of machines and various gadgets, exercise regimes to strengthen the back, and on and on it goes.
Yet in spite of ALL of this, back pain continues to be an issue
and as the Lancet Journal published in 2018 after investigating for over 3 years – we need to change the way we treat back pain.  What we are doing is not working and needs to change.
I took a different approach to back pain over 20 years ago, this came out of me researching and finding out what causes it.
I have been evolving this method I developed in my own clinic over the last 10 years, and it does not treat back pain.
My method – the Soaz Method – treats the Cause of back PAIN!

Here is a review from one of my Clients who has been treated:
"I can personally testify to the incredible and immediate benefits of this one of a kind Soaz treatment, which instantly changed decades of various spinal and body problems of walking with one leg shorter than the other.  My leg length difference corrected in minutes and my body realigned itself completely, balancing not only my spine directly, but easing pains and distortions all over!  Incredible!  I highly recommend this intelligent, incredible treatment invention that speaks for itself." M.W-P. Wynn Vale, South Australia
Call us for a FREE assessment Now p) 8261 0177 or Book online here
To find out what we do here because it is different
Download our FREE ebook "What Really Causes Back Pain"
Also, Download our FREE App "The Psoas 3D Interactive Model"
https://apps.apple.com/us/app/psoas-3d-interactive-model/id1201600479?ls=1
https://play.google.com/store/apps/details?id=com.postureprotrust.psoas3d