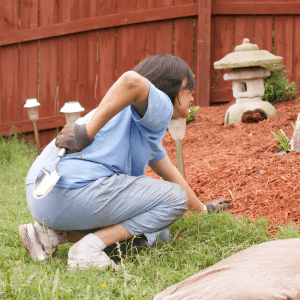 Crying for Joy – Relief from Back Pain 
A new client came in to me with a 20 year history of back and leg pain, having had many treatments over that time including physiotherapy. She reported some short term relief of pain with these treatments, but over the years her back and shoulder pain had become worse. She also reported getting headaches now on a weekly basis.
"I Can't Walk Far Because I'm Stiff In The Hips and My Back Pain Starts"
As I watched her walk I observed she had minimal hip movement and her stride length was very restricted.
All Movements In Her Body Were Restricted
Bending was only to above her knees, which brought on her back pain and she had no back movement.  Her trunk and neck movement was very limited.
Right Shoulder Was Reconstructed A Year Ago
Her right shoulder could not move up past 80 degrees, and her left was about 110 degrees. With these restrictions it will be hard to do the normal activities that are required to clean the house or take care of personal hygiene or even go grocery shopping.
I Asked Her "What She Was Hoping To Get From The Treatment?"
She responded with "If I could just have some relief from my leg pain, I think I could walk better. I think my back pain isn't going to get much better because I've had it treated for so long with lots of different people"
After Soaz Method
After her treatment she had new movement and renewed hope.  She could bend further to the floor, she could turn her trunk to almost full movement and her neck as well.  Both her shoulders had full movement, and her leg length was equal.
She Was So Overwhelmed That She Started To Cry!
Posturepro is the home of the Soaz Method
For a FREE Assessment Call us NOW 82610177 or Book online here
Download our FREE ebook "What Really Causes Back Pain"
and, Download our FREE App "The Psoas 3D Interactive Model"
https://apps.apple.com/us/app/psoas-3d-interactive-model/id1201600479?ls=1
https://play.google.com/store/apps/details?id=com.postureprotrust.psoas3d