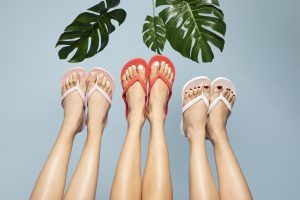 Posturepro physiotherapy are agents for the Designer Archie thongs range.
These thongs have been designed by a Physiotherapist and a Podiatrist in Australia and are the most comfortable thong you will ever wear.
They are made of Memory foam and have an inbuilt arch support for supporting your arch and still allowing your feet to have the freedom of an open shoe for summer.
They are unisex so suitable for both Female and Male feet.
They come in a range of beautiful colors as well as black and white.
Come in and see our range and book in for a fitting so you can get your feet the best support and still feel the cool breaze of summer on your feet.
Your feet will thank you for it.
Call us or drop in to our Clinic for a fitting.